On Sunday, I told my morning pages to stick it where the sun don't shine. Actually, what I said was "eff you morning pages". Only I used the real F bomb. Essentially, I did this for three consecutive pages. Only to be interspersed with "Eff you so and so (anybody who I felt had "done me wrong" in the last 15 months or so)".

My rant was only interrupted by the occasional lucid and conscientious "I really need to pay bills and go to COSTCO today".

So, yeah…."eff you morning pages" and "eff you so and so" (fill in the blank with any one of about five or six people).

Then I saw a bunny rabbit hop by in the newly fallen snow, and I thought about the CNN news article about the Owl attacking the Chihuahua.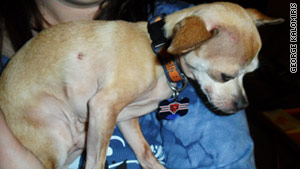 Ummmm…..I think maybe I've finally arrived at the "Anger" stage.

Maybe I'm sick and tired of having empathy for others. Well, at least today. Okay, this week.

So, what does it mean that I'm in the anger stage? I don't know. I'm too angry.

I hate being angry.

I'm really an optimist at heart. No, I'm not. I'm a realist who would prefer to be happy. Unfortunately, reality is not always all that pretty.

So, maybe anger is okay?

Well, it's okay if we don't stuff it and let it get pent up.

The only way is through, Sugar. Right, P?

That's why I succumbed and even wrote those damn morning pages.

I didn't write them most of the past week.

I was sick and tired of hearing myself drone on.

I didn't want to hear what I had to say. So, I shut the hell up.

Clever girl that I am, I knew I couldn't stay in this pissy mood, so out came the morning pages-even though I knew what they were in for, that I was going to abuse them.

I had thought about all the different ways I could abuse my morning pages the 20 minutes before I crawled out of bed.

My beloved pages took the beating with style and grace.

At least they're getting some attention….unlike my "required" Artist's Date.

Or, the Artist's Way chapters for that matter.

Or the extra credit tasks. Yeah, right.
So let's talk about the Artist's Date- I haven't gone on an artist date one single time since I started Artist's Way this time around.

Ironically, while I was in my blissful denial and oblivion about my artist's date, I opened up the book I got my hair chopping quotes out of to read the daily meditation for February 1st and you know what it was about???? I should take myself on a "creative outing" it said.

On and on about what that could be and that I should carve out the time and go by myself.

What? Is it a conspiracy?? This chick did the Artist's Way, I bet!! She goes on about how hard "creative outings" are to do, but oh, so important.

Ugh!! Can't I just not do it and say I did?? What is my problem here? Why should it be so difficult? Can I blame the winter? The snowstorm? My crappy minivan with crappy tires? How about my crazy long and hilly driveway on a cliff?
Mine's the hilly, snowy one on the left.
Surely anyone who's had to deal with my driveway in the winter would write me a note to be excused from any activity I want to be excused from, right?

Well here's what happened on Sunday a few hours after I told my morning pages where to stick it.

It had snowed (again) the night before so my iPod and I went out to shovel.

Having gotten about 150 "fuck you's" out of my system, I was feeling pretty groovy.

I was getting a workout in, listening to some good tunes, and having a pretty productive day.
View from the garage.
I was almost done, getting a little tired, and was sweating in my ski jacket, waterproof mittens, and prAna hat.

I looked up from the packed snow I was trying to break into pieces and noticed that it had started to snow.

It was truly beautiful. I thought, hmmmmm……I could just lay down right here, right now, in the middle of the driveway and let the snow fall on my face.

How peaceful would that be? Instead, I decided to go to the kids' swing set and get up in the little fort area at the top of the slide.

I made a snow pillow and lay down for a half an hour.

I let the snow fall on my face. I thought about the spring and my hostas and other perennials poking up.

I thought about the song birds in my yard and resolved to feed them when I got up.

I wondered what my Owls have been up to. I breathed. And then, I breathed again. Deeply. I felt better.